Nowadays, outsourcing software development companies have become a common thing in the software industry. According to Statista, companies are quick to conduct budgeting related to external IT services. By 2021, a company could spend more than $413.72 billion to outsource.
With such high demand, it is unsurprising that many companies providing outsourced software development services are snowballing. As a result, competition in this business has become challenging. Every software development company does not want to lose to its competitors. They are competing to be able to provide the best service.
So this brings up a new question for you, who are a client? What should you do to get the best software development company from the best?
That's a simple question. All you need to do is know the criteria of the best software development company and take the steps for it. In this article, all of these things will be discussed thoroughly.
Not only for clients, but this article is also suitable for those of you who are entrepreneurs in software development companies so that you will not lose the competition and prepare the ammunition to compete in the outsourcing software development market by knowing the client's point of view. Let's get started!
10 Software Development Company Selection Criteria You Must Know
Challenging is the right word to describe your current situation in choosing a vendor for software development. One little mistake can make you get project results outside your expectations.
There are so many vendors today, and each one promises outstanding performance quality and unique solutions for your business needs. Therefore, you need specific criteria to ensure you get the best vendor. That's why this article is here. You will be guided to achieve your business hopes and goals. Here are 10 criteria you should know in determining software vendors:
Experience with Product Life Cycle
It is important to remember that you are looking for a partner to handle your business project. Therefore, it would help if you defined a standard vendor with experience with the product life cycle.
Vendors must be able to discover products, create advanced prototypes, and analyze the business. A reliable partner must be able to drive your project forward, from product discovery launch and post-launch support.
If there are complaints or requests for updates from your users in the future, your partners must be ready to support you. Wouldn't you choose to outsource to lift the burden off your shoulders? For that, you need an experienced vendor.
Versatile Tech Expertise
For your current project, you only want to develop microservices, so you only focus on finding experienced microservices development vendors.
However, leveraging the knowledge and expertise of your partners will save you more money. Even if your company doesn't rely on technologies like Big Data or AI right now, you may need them in the future.
So, choose a vendor who has matured with diverse expertise in the field of technology, and always think far ahead.
Strong Portfolio
Before selecting a vendor partner, you must ensure that the partner you choose has direct experience with your similar project. In addition, you need to know how they are performing when developing the project and what solutions they offer. So, it would help if you browse the portfolio of your potential vendors.
Strong Domain Expertise
If your prospective vendor has strong domain expertise, they already have in-depth knowledge of compliance and regulations specific to this business vertical.
So keep in mind, look for vendor companies that have worked in your domain and partners who have successfully developed reliable software for their previous clients in your field.
Industry Recognition
Another thing you need to make sure is that your vendor partners have the most reputable industry awards to help you select the best software development company. Global Outsourcing 100 by IAOP, Software 500, and other rankings are examples of industry recognition.
Established Security Policy
Another guarantee must be ensured that your partner complies with data protection standards. Some examples of data protection standards that must be adhered to are as follows:
ISO 27001:2013 ensures the company establishes a safety management system for its clients.
ISO 9001:2015 signifies a high level of organizational management.
EU provides data protection and privacy on the territory of the European Union.
Company Size
The size of the software development company and the project's scale are criteria you must pay attention to. Medium and large vendors will have more internal resources and a larger pool of external resources, so they can quickly expand their team or rotate people to different projects if you need to reduce them.
Technologies, Partnerships, Certifications
You need to know what kind of technology your potential vendor partner is using, the solutions they are used to, and what tools they will use for your project.
Getting a partner with a reputable company is a good sign, a certified partner with a global tech giant like Microsoft, Google, or others means the partner company has been recognized by industry leaders.
Reviews and Testimonials
When selecting a vendor partner, you can visit a review platform such as Clutch or GoodFirms to get feedback about the vendor company you will choose. The reviews they get are also from their previous clients, so they can describe their performance when working with you.
Communication
Communication is an essential factor that must be included in the 10 criteria for choosing partners. Poor communication skills will hinder your project and create unclear collaboration and misunderstandings.
Therefore, you must ensure that you and your potential partner use uniform language so that there are no mistakes.
After knowing the criteria of the best software development company, the next thing to do is take action. The action can take through the six steps you should take to choose a software development company below.
Steps You Should Take to Choose the Best Partner for Develop your software

Choosing a vendor for software development is crucial. However, you can only select with a definite procedure to avoid the risks that could arise from the wrong vendor selection. For the next discussion, you will be provided with knowledge in the form of six definite steps that you must take in choosing a software development company, namely:
Requirements
In this first step, all you have to do is form the expectations of the cooperation built with the vendor and determine the tasks given. You can start by prioritizing, defining taboos, and adequately looking for a partner. It would help if you also chose the criteria.
There are a few questions you can ask yourself at this requirements stage:
What is your top priority that cannot be compromised? For example, Domain Expertise.
What potential should be in the vendor you will choose? For instance: Certifications.
What is something you can't accept when working together? For example, Low English proficiency.
What criteria will you use in vendor evaluation? For instance: Company maturity.
Research
Continued to the second step, namely research. Once you have decided on the goals you want to achieve with outsourcing and understand how to measure your success in this endeavor, the next step you should take is to study the market. Quickly, you identify the most potential vendor candidates by googling or browsing various ranking services.
At this step, you will also be assisted with several questions that you can ask yourself, including:
What are the publicly available resources you are going to use for evaluation? For example, Clutch and GoodFirms.
What rating do you want your vendor to have, and what is not acceptable for you from them? For example, More than 4 is desirable. More than 3.9 is needed.
The Request for Proposal (RFP) and Analysis Stages
Forming an RFP means that you describe what your business is like and define the requirements and objectives of your market. Here you must be able to think clearly and choose the right words to understand the information conveyed to the vendor.
Likewise, you must carefully assess the vendor you will be cooperating with at the analysis stage. Assess vendors from existing and previous clients, inquire about their experience with vendor companies, and explore testimonials.
You need to find a way to objectively assess the vendor's expertise at both of these steps. Then, you can list doubts and questions you want to ask the vendor to start an open dialogue.
Evaluation and Decision
Before you get to the research, analysis, and RFP steps, you may already know how each vendor on your candidate list works. Now, you are required to seek more in-depth information regarding your potential vendor during the evaluation and decision steps.
Conducting a Q&A session can be done as a general method of evaluation. For example, you can find out how exactly the vendor will meet your needs, ask about the details of the software development process, and value ease of communication.
During this step, it's time to answer all the questions you've created for potential outsourcing vendors. After that, you can ask another question, but the difference is that the question is aimed at you. So first, ask how you feel about each candidate vendor, and from there, you can choose one of them.
Here are some questions you can ask during the evaluation and decision steps :
What does a vendor offer in response to your specific requirement? For example, Data privacy in patient-doctor communications will be ensured with end-to-end message encryption.
Are you satisfied with the terms for staffing and onboarding? For example: On average, it takes this vendor four weeks to staff a project team.
Conclusion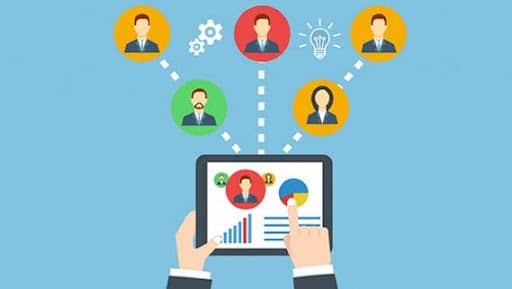 After knowing the criteria and the steps to begin finding your best software development company, you are expected to no longer be anxious or worried. Your steps are proper. Now, all you need is the courage to start. First, list criteria according to your business, desires, and abilities. Be sure to complete all of the steps described above to avoid mistakes. And feel free to cross out one vendor candidate that doesn't fit the criteria you've made just because of a recommendation from a colleague. All for the continuation of your business.
Taking more help in your software development process? We provide helpful information for your next step In choosing a software development partner.
More resources:
Five Common Mistakes to Avoid When Outsourcing Software Developer 
Offshore Vs Onshore Software Development